HOME >>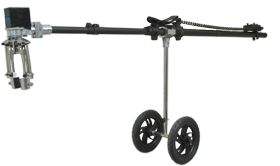 MODEL : TM VI
TELESCOPIC MANIPULATOR
Model TM VI
Operation Lenght:
It has a minimum lenght of 4.5 mtrs when fully extennded.
Weight :
The total weighr does not exceed 6kg for jaw, teleschopic rod,battery & controls. the counter weight of 10 kg and bipod stand of 4 kg.
Shoulder Strap:
It has a comfortable shoulder strap with adjustable sleeve for operator to wear and handle it.
Stand off Distance:
It provides a standoff distance of minimum 3 mtrs from the claw
Lifting Capacity :
It is able to handle/lift upto 6 Kgs of weight when fully extended with bipod an 10kg with bipod
Jaw Opening :
The Claw is adjustable and open to a minimum of 8".
Break Away :
The telescophic manipulator is having a breakaway tip arrangement, so that in case of a possible explosin ,only the tip is damaged and reduce the recoil almost to nil.
Optional Claws :
The equipment is provided with various optional claws, which can be fitted and used as required depending on the shape of the object to be manipulated.
Water Jet Disruptor :
It is possible to deliver water jet disruptor using this manipulator.
Rechargeable Battery Pack :
The rechargeable Li-ion battery pack power source lasts for a minimum of 2 hrs of continuous operation time.
Charger :
the equipment in provided with one set of charger.
Carrying Case :
The equipment in folded state is small and portable in a carrying case.
Operating Temperatute :
the equipment will be able to function at extreme ranges of temperature -20 °C to +50° C.
Water Proofing :
the electronic components are water proof.

BOMB TRUCK
BOMB DISPOSAL EQUIPMENTS
DOOR FRAME METAL DETECTORS
HAND HELD METAL DETECTORS
MINE DETECTORS
POCKET SCANNERS
LETTER BOMB DEDECTOR
BULLET PROOF HELMET & JACKET
HAND HELD SERACH LIGHTS
TOWER LIGHTS
LED SEARCH LIGHTS
UNDER VEHICLE SEARCH MIRRORS
BULLET PROOF MORCHA AND SENTRY POST
RIOT CONTROL EQUIPMENTS