HOME >>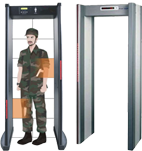 MODEL : SK-CHECK-1212 (Multizone)
DOOR FRAME METAL DETECTOR
SK-CHECK-1212 (Multizone)
AUTO TUNNING / CALIBRATION
Advanced Microprocessor controlled Induction loop.
12 zones (6 X 2 Matrix)
Works on AC and re-chargeable battery.
Plug - in card systems.
IR sensor to avoid alarm indication for metal movement outside the frame.
Membrane switches with LCD Display.
Built in SMPS charger operates from 90 -270 V AC.
Metal density level meter.
5 digit counter.
Traffic thru LED indicator.
UPS works for >8 hrs Approx.

REMOTE OPERATED VEHICLE
TELESCOPIC MANIPULATOR
BOMB TRUCK
BOMB DISPOSAL EQUIPMENTS
DOOR FRAME METAL DETECTORS
HAND HELD METAL DETECTORS
MINE DETECTORS
POCKET SCANNERS
LETTER BOMB DEDECTOR
BULLET PROOF HELMET & JACKET
HAND HELD SERACH LIGHTS
TOWER LIGHTS
LED SEARCH LIGHTS
UNDER VEHICLE SEARCH MIRRORS
BULLET PROOF MORCHA AND SENTRY POST
RIOT CONTROL EQUIPMENTS