HOME >>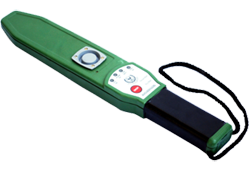 MODEL : H-9
HAND HELD METAL DETECTOR
Model H-9
Dimension:
Handy and robust (Less than 400 x 65 x 36mm)

Operating Temp :
-20 Degree to 55 Degree Celsius. Weight: 500gms with battery (approax)
Power Source :
3.6V rechargeable and 3V dry battery
Battery Protection :
Short Circuit reversed Battery Protection
Indicator :
i) Suitable indication for mains on low battery Detection.
ii) Charging and metal detection (Audible & Visual detection indication)
iii) Low Battery Indication.
Construction :
It is rugged and impact resistant ABS moulded casing
Scan Rate :
Minimum 3" to 24" / sec.
Detection :
It can detect ferrous and non ferrous metals and metals hidden under ferrite.
Charging :
Inbuilt Battery Charger
Power Operation :
230VAC+- 10%
Timing :
Automatic to ensure equal result on wide range of metal and alloys.
Detection:
One rupee coin from 2 to 3 in.
Pistol from 4 to 5 in.

REMOTE OPERATED VEHICLE
TELESCOPIC MANIPULATOR
BOMB TRUCK
BOMB DISPOSAL EQUIPMENTS
DOOR FRAME METAL DETECTORS
HAND HELD METAL DETECTORS
MINE DETECTORS
POCKET SCANNERS
LETTER BOMB DEDECTOR
BULLET PROOF HELMET & JACKET
HAND HELD SERACH LIGHTS
TOWER LIGHTS
LED SEARCH LIGHTS
UNDER VEHICLE SEARCH MIRRORS
BULLET PROOF MORCHA AND SENTRY POST
RIOT CONTROL EQUIPMENTS