HOME >>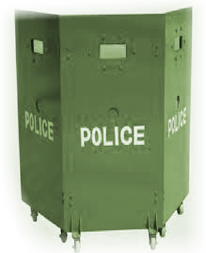 MODEL : BP MORCHA
BULLET PROOF MORCHA AND SENTRY POST
BP MORCHA
Construction:
The bullet proof morcha provided is efficient both in low intensity operations and mainteance of law and order in urben areas. each to assemble and dismantle,bullet proof mobile morcha gives the user the confidence to observe and return fire in all hostile situation.
Protection:
BP Morcha protection against threat levels up to NIS level -III, Protection against all smalll arms.
BP Morcha can be assmbled/dismentled in 60 seconds time to operate as a BP morcha
2) It does away with the requirement for sand bags and becomes parmanent property of the unit.
3) Each plate has two carriage handles for easy movement.
Dimensions and Weight:
The Size of the morcha is 46"x27"and having weight of 156 kgs approximately.

REMOTE OPERATED VEHICLE
TELESCOPIC MANIPULATOR
BOMB TRUCK
BOMB DISPOSAL EQUIPMENTS
DOOR FRAME METAL DETECTORS
HAND HELD METAL DETECTORS
MINE DETECTORS
POCKET SCANNERS
LETTER BOMB DEDECTOR
BULLET PROOF HELMET & JACKET
HAND HELD SERACH LIGHTS
TOWER LIGHTS
LED SEARCH LIGHTS
UNDER VEHICLE SEARCH MIRRORS
BULLET PROOF MORCHA AND SENTRY POST