HOME >>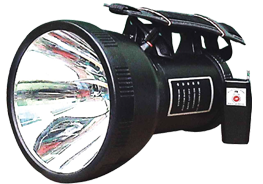 MODEL : DAZZLE 2006
HAND HELD SERACH LIGHTS
Model DAZZLE 2006
SPECIFICATIONS
Dazzle 2006 is made of Super Tough glass filled Nylon/PVC material in 1 piece construction. Suitable for 50W/55W Halogen Lamp. Operating range of about 1 Mile. Beam distance of 400mt. (minimum) so as to detect group of persons. Shock resistance front glass. SMPS inbuilt charger working on from 90 V to 270 V, 50Hz. Advance low battery status indication is also provided with long delayed audio beep. DC blown fuse indicator is provided on the panel. Suitable control for ON/OFF and function like flasher, dimmer and timer. Single rotary selector for all the following modes Continuous / direct light
>> 2 positions for dimmer to extend battery life to 2 and 5hrs respectively.
>> Flasher to give 45 flashers ( + 2 flashes ) per minute.
>> Timer 1minute.
Adjustable timer (optional)
Remote control (optional).

REMOTE OPERATED VEHICLE
TELESCOPIC MANIPULATOR
BOMB TRUCK
BOMB DISPOSAL EQUIPMENTS
DOOR FRAME METAL DETECTORS
HAND HELD METAL DETECTORS
MINE DETECTORS
POCKET SCANNERS
LETTER BOMB DEDECTOR
BULLET PROOF HELMET & JACKET
TOWER LIGHTS
LED SEARCH LIGHTS
UNDER VEHICLE SEARCH MIRRORS
BULLET PROOF MORCHA AND SENTRY POST
RIOT CONTROL EQUIPMENTS