HOME >>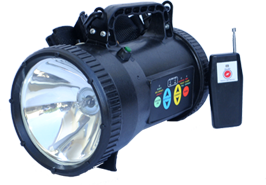 MODEL : DAZZLE 2003
HAND HELD SEARCH LIGHT
Model DAZZLE 2003
Construction:
Dazzle 2003 is made of Super Tough glass filled Nylon material minimum 2 mm thickness in 1 piece construction.
Technology:
Micro Controller based HHSL
Lamp :
Suitable for 50W/55W Halogen Lamp
Operation Range :
About 1000 mtr.(!.e. 1km)
Bean Distance:
350mt.(minimum)so as to detect group of persons.
Shock resistance:
Front Glass
Charger SMPS :
Inbuilt charger working from 90 V to 70 V
Switches :
Member switches with distinct coloour LEDs.
Operations:
The full glow of the light can be varied by way of pressing the corresponding membrane switch in upward or downward direction.
a) Single System On membrane switch is provided. the colour of the system ON LED indicate the status of the battery.
b) Mode switch is provided to select Timer,Flasher Continuous Mode. The color of LED glow is corresponding to the mode return in the same colour.
c) Yellow colors is for the Flasher Mode,Green Colour membrane switch in upward or downward direction.
d) Charging status shall be indicated by tri color LED embedded in the panel .(red LED will glow when battery is on normal charge, amber LED will glow when battery is trickle charge and blinking green LED will glow when battery is full charge.)

Special dimming feature:

For indoor use

Emergency Lightng Effect:

For indoor use

Auto flashing feature:

With variable ON/OFF time

Advance low battery status indicator:

is provided with long delayed audio beep

DC blown fuse indicator:

Provided on the panel

Specail Dimming Feature:

For indoor use with timer and continous mode.

Optional Remote control:

switch the light on/off
remotely from 100 to 150 mts.
REMOTE OPERATED VEHICLE
TELESCOPIC MANIPULATOR
BOMB TRUCK
BOMB DISPOSAL EQUIPMENTS
DOOR FRAME METAL DETECTORS
HAND HELD METAL DETECTORS
MINE DETECTORS
POCKET SCANNERS
LETTER BOMB DEDECTOR
BULLET PROOF HELMET & JACKET
TOWER LIGHTS
LED SEARCH LIGHTS
UNDER VEHICLE SEARCH MIRRORS
BULLET PROOF MORCHA AND SENTRY POST
RIOT CONTROL EQUIPMENTS