HOME >>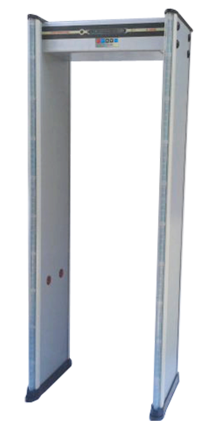 MODEL : SK-CHECK-666
MULTIZONE DOOR FRAME METAL DETECTOR
Model SK-CHECK-666
Detection:
It is capable to detect both ferrous , non ferrous metals, its alloys and ferrite
Construction:
Portable ABS coated Pannel with inbuilt walk-stop
Passage Dimension
Height - 200cm approx
Breadth - 72 cm approx
Display:
Day visible alpha numeric 16 digit FND display
Power Supply:
Provided with internal 12V rechargable battery with in built
SMPS charger (90V to 270V)
Alarm:
Acoustic and Optional Alarm with alphanumeric display, and zone display, Low battery indication.
Sensitivity:
Wide range of sensitivity setting and fine tuning, Zone wid=se sensitivity setting 1 to 150.
Zones:
Six-Zones(equal), covering full height of the Instrument.
Calibration:
Manual and automatic by built-in-key pad and by remote control via a serial/wireless link.All functions are programmable & controlled by a microcontroller.
Counter:
Intelligent 5 digit traffic counter with in,out & net in display of transit
Detection:
Uniform from top to bottom
Throughput rate:
25 people per minute
Multiple Metal:
Is able to detect multiple metal objects of various size in all the zones simultaneously.
Protection:
Confirm to relevant electric safety standard.
Connectivity:
Provision of connectivity with computer systems.
Other features:
a) High discrimination between small masses and personal metallic objects.
b) Automatic synchronization for DFMDs located close to each other up to a distance of one feet side by side.
c)Programming Protection by password.
d)It is not affected by opening/closing of a metallic gate in vicinity.
e)It is not affected by heavily reinforced floors.
f) It is not affected by external RF transmission and EMI.

Operations:
Works on both IR On & IR Off modes.
Optional:
Camera & real time DVR With recording facility on motion detection

REMOTE OPERATED VEHICLE
TELESCOPIC MANIPULATOR
BOMB TRUCK
BOMB DISPOSAL EQUIPMENTS
DOOR FRAME METAL DETECTORS
HAND HELD METAL DETECTORS
MINE DETECTORS
POCKET SCANNERS
LETTER BOMB DEDECTOR
BULLET PROOF HELMET & JACKET
HAND HELD SERACH LIGHTS
TOWER LIGHTS
LED SEARCH LIGHTS
UNDER VEHICLE SEARCH MIRRORS
BULLET PROOF MORCHA AND SENTRY POST
RIOT CONTROL EQUIPMENTS