HOME >>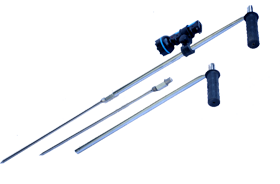 MODEL : PRODDER
PRODDER
Construction :
It is made up of heavy steel with nickel coating.
Length :
It is one meter length.
Folding Arragement :
1) It can be folded with thread system.

Weight :
It Is light weight.
Capability :
Its strong enough to dig all kinds of soil for suspected items.

REMOTE OPERATED VEHICLE
TELESCOPIC MANIPULATOR
BOMB TRUCK
BOMB DISPOSAL EQUIPMENTS
DOOR FRAME METAL DETECTORS
HAND HELD METAL DETECTORS
MINE DETECTORS
POCKET SCANNERS
LETTER BOMB DEDECTOR
BULLET PROOF HELMET & JACKET
HAND HELD SERACH LIGHTS
TOWER LIGHTS
LED SEARCH LIGHTS
UNDER VEHICLE SEARCH MIRRORS
BULLET PROOF MORCHA AND SENTRY POST
RIOT CONTROL EQUIPMENTS