HOME >>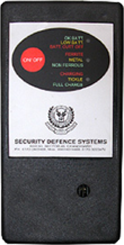 MODEL : H-2044(LED)
POCKET SCANNER
H-2044(LED)
Dimensions :
150mm*75mm*22mm
Area of search coil 100 sqcm(min)
Weight :
250 gms

Calibration :
Auto
Alarm:
Audio alarm proportional to the size of the metal. two tones audio alarm (distinct tone for ferrite).Ear phone is provided as standard feature.
Display :
System on Detection on 7 Charging on.

Charger :
Built in SMPS charger operating from 90 v to 270 V

Detection :
Detects ferrous & non ferrous metal one rupee coin from 2" to 3" pistal from 4" to 6"
Operating Temperature :
-20 c to 55 c

REMOTE OPERATED VEHICLE
TELESCOPIC MANIPULATOR
BOMB TRUCK
BOMB DISPOSAL EQUIPMENTS
DOOR FRAME METAL DETECTORS
HAND HELD METAL DETECTORS
MINE DETECTORS
LETTER BOMB DEDECTOR
BULLET PROOF HELMET & JACKET
HAND HELD SERACH LIGHTS
TOWER LIGHTS
LED SEARCH LIGHTS
UNDER VEHICLE SEARCH MIRRORS
BULLET PROOF MORCHA AND SENTRY POST
RIOT CONTROL EQUIPMENTS