HOME >>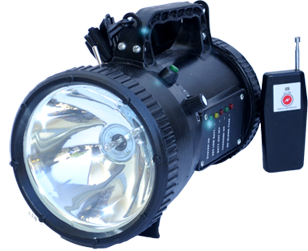 MODEL : DAZZLE 2005
HAND HELD SEARCH LIGHT
Model DAZZLE 2005
Construction Body Casing:
a) Body Casing : HHSL is tubular heavy duty water resistant and one piece moudled with integral handle of ABS. It is light,impact proof and corrosion proof.
b) Maximum Weight including the battery =4.3Kgs.
c) Lenght=28cms(max)
d) Front dia=22cms.
Constuction :
Modular construction consists of replaceable modules for ease of servicing/repairs.
b) The lamp is replaceable by unscrewing the front cover .
c) The Battery and blown fuses can be replaced without disturbing electronic circuit by unscrewing the front cover.
d) Colour of the casing is black.
e) Makers name is clearly printed on the body of the cabinet.
Battery :
Rechargeable sealer 12 volts and 7AH mainteance free battery.
Housing of battery :
There is an adequate space around the battery for dissipation of heat developed while charging.
Lamp :
12 Volts,55 Watts high power halogen lamp.
Circuit:
a) Wire heavy duty. b) Electronic circuits are not sealed at any stage.
c) Suitable control for ON/OFF and function like flasher,dimmer and timer
Battery Charger and indicator :
Charging time 8to10 hrs.
Range and Beam Distance :
One Km minimum light is able to detect group of moving persons at a distance of 400 meters minimum.

REMOTE OPERATED VEHICLE
TELESCOPIC MANIPULATOR
BOMB TRUCK
BOMB DISPOSAL EQUIPMENTS
DOOR FRAME METAL DETECTORS
HAND HELD METAL DETECTORS
MINE DETECTORS
POCKET SCANNERS
LETTER BOMB DEDECTOR
BULLET PROOF HELMET & JACKET
TOWER LIGHTS
LED SEARCH LIGHTS
UNDER VEHICLE SEARCH MIRRORS
BULLET PROOF MORCHA AND SENTRY POST
RIOT CONTROL EQUIPMENTS