HOME >>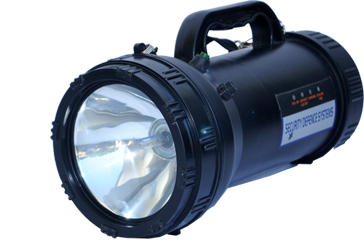 MODEL : DAZZLE 2010
HAND HELD SEARCH LIGHT
Model DAZZLE 2010
Lenght of the beam :
it is able to detect group of persons in camouflaged dress at a distance of 500 meters when seen through a binocular on a clear night.the beam can be seen from a distance of 1Km.

Shoulder Strap :
it has a provision for attaching a shoulder strap which is able to bear the weight of HHSL. the end to end lenght of the strap when adjusted to its maximum length is 1.30 mtrs.
COLOUR :
HHSL is provided in Black Colour
Weight :
The Weight of HHSL including its battery and charger is approx 3 Kgs.
Ruggedness :
it is impact and water resistant. it has a suitable padding on the underside of the body to absorb shock and is funcitonal in heavy rains.
Duration of operation :
HHSL is able to operate continuously for at least 170 mintues on a fully charged battery.its glow does not reduce during the period of opearation.
Control Switches :
the control switches are suitably placed for easy operation.
Visual Indications :
there is a provision for giving visual indication for the following :
1) Mode of operation in which HHSL is operating
11) Warning for low b attery charge.
111) Indication for charging in process.
1v) Indication for charging in process.
v) indication for DC blown fuse.

Operating Temperatures :
it operate in a range of -20 °C to 50 ° C
1)

POWER SOURCE :
Lithium lon battery
Battery Charger:
Built in SMPS charger. it is able to charge a fully discharged battery to full charge in nine hours. it also has auto cutt of for disconnecting the battery from charger after is fully charged .
Light Source:
High intensity discharge metal hallide lamp of 35 watts that gives the white beam.
Body of hhsl :
The body of the hhsl is made of advanced engineered plastic. the entire body is moulded as one piece with integrated carrying handle moulded to the body.
Optional remote control :
swith the light ON/OFF remotely from 100 to 150 mts.

REMOTE OPERATED VEHICLE
TELESCOPIC MANIPULATOR
BOMB TRUCK
BOMB DISPOSAL EQUIPMENTS
DOOR FRAME METAL DETECTORS
HAND HELD METAL DETECTORS
MINE DETECTORS
POCKET SCANNERS
LETTER BOMB DEDECTOR
BULLET PROOF HELMET & JACKET
TOWER LIGHTS
LED SEARCH LIGHTS
UNDER VEHICLE SEARCH MIRRORS
BULLET PROOF MORCHA AND SENTRY POST
RIOT CONTROL EQUIPMENTS