HOME >>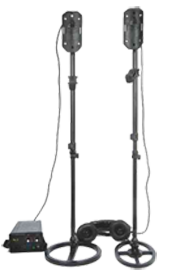 MODEL : SKMD-II
SKMD-II
For professional, Lightweight and rugged, and high sensitive.
Pulse-induction technology.
Audio alarm proportional to the size of the metal.
Detects metal and its alloys.
Single Coils
Telescopic handle for easy maneuvering along with grip and handset.
Rechargeable battery with in built SMPS charger from 90V - 270V.
Pin pointing location.
Coils are waterproof.
Sensitivity is adjustable from 0 to 9.
Bar graph display.
Head phone facility.
Volume control.

REMOTE OPERATED VEHICLE
TELESCOPIC MANIPULATOR
BOMB TRUCK
BOMB DISPOSAL EQUIPMENTS
DOOR FRAME METAL DETECTORS
HAND HELD METAL DETECTORS
POCKET SCANNERS
LETTER BOMB DEDECTOR
BULLET PROOF HELMET & JACKET
HAND HELD SERACH LIGHTS
TOWER LIGHTS
LED SEARCH LIGHTS
UNDER VEHICLE SEARCH MIRRORS
BULLET PROOF MORCHA AND SENTRY POST
RIOT CONTROL EQUIPMENTS