HOME >>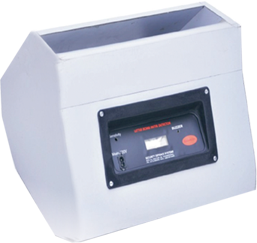 MODEL : LBD-II (LCD)
LETTER BOMB DETECTOR
Model LBD-II (LCD)
Technology:
Digital Signal processing.
Power:
Work on AC/DC
Detection:
It detects both ferrous,non-ferrous metals with high senstivity. it detects almost all DIP integrated circuits smallest button cel and detonator's used in letter bombs.
Display:
it detect ferrous,non-ferrous and ferrite objects ,and display on single line 8 Digit LCD display on the panel as "ferrous","non-Ferr"& "ferrite".
Operation:
No calibration.
Visual and audio alarm.
Integral battery back-up with built in charger
Charger:
It has low battery indicator by way of visual indication and long dealy beeper.
Dimensions:
480 X 410 X 290 mm approximately
Weight:
Not more than 12kg.
Sensitivity:
Minimum watch cell size of 6mm Dia X 2.5mm thickness of any metal or alloy.
Indications:
Sharp Beep through buzzer.
Services Manual:
Complete with technical Details, circuit-diagram, Calibration & test method. Test sample for checking the detector.

REMOTE OPERATED VEHICLE
TELESCOPIC MANIPULATOR
BOMB TRUCK
BOMB DISPOSAL EQUIPMENTS
DOOR FRAME METAL DETECTORS
HAND HELD METAL DETECTORS
MINE DETECTORS
POCKET SCANNERS
BULLET PROOF HELMET & JACKET
HAND HELD SERACH LIGHTS
TOWER LIGHTS
LED SEARCH LIGHTS
UNDER VEHICLE SEARCH MIRRORS
BULLET PROOF MORCHA AND SENTRY POST
RIOT CONTROL EQUIPMENTS