HOME >>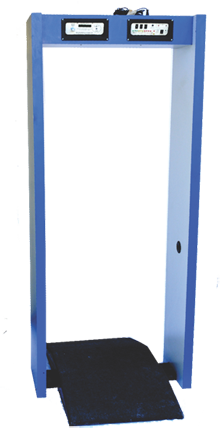 MODEL : IR-2005(Single Zone)(LED)
CHECK - GUARD/ IR -2005 (LED )-BASED)AUTO SETTING MODEL IR-2005
Model IR-2005(Single Zone)
Technology:
1) Advanced Microcontroller controlled induction loop.
2) It has general immunity to electro magnetically noisy environments
Operations:
1) Works on both AC and rechargeable battery
2) Quick and easy to install
Electronics :
1) Plug-in card systems.
2) Advance Low Battery indication
Sensors:
IR sensor to avoid alarm indication for metal movement otside the frame
Display:
LED Display
Charger:
UPS works for >80 hrs approx.
Audio Output:
Four tone audio alarm
(3 Distinct audio alarm in proportion to the size of the metal and 4th tone for ferrite detection)
Counter:
5 digit counter (IN,OUT,& NET IN)
Sensitivity:
Sensitivity level 0 to 9.

REMOTE OPERATED VEHICLE
TELESCOPIC MANIPULATOR
BOMB TRUCK
BOMB DISPOSAL EQUIPMENTS
DOOR FRAME METAL DETECTORS
HAND HELD METAL DETECTORS
MINE DETECTORS
POCKET SCANNERS
LETTER BOMB DEDECTOR
BULLET PROOF HELMET & JACKET
HAND HELD SERACH LIGHTS
TOWER LIGHTS
LED SEARCH LIGHTS
UNDER VEHICLE SEARCH MIRRORS
BULLET PROOF MORCHA AND SENTRY POST
RIOT CONTROL EQUIPMENTS